3 Aug 2023 | 6 min read
Unveiling Kisaan Management Services
Revolutionizing the Agri Sector with Digital Excellence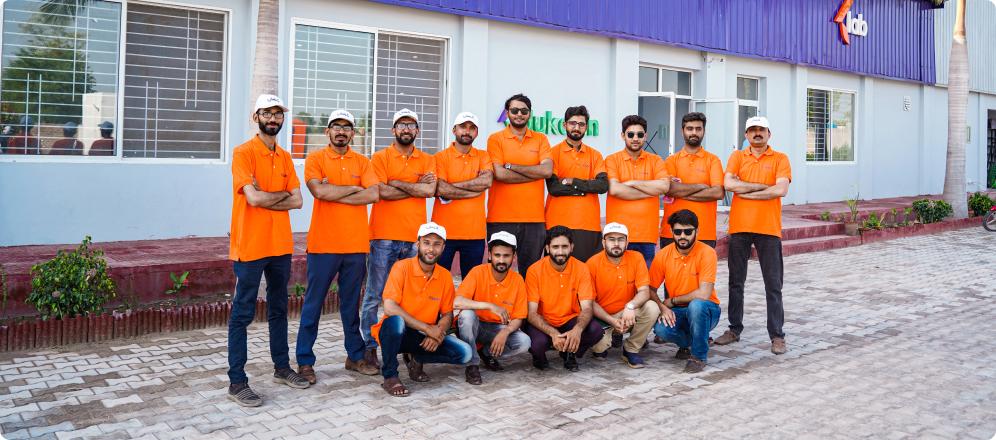 We are delighted to announce the successful launch of Kisaan Management Services Private Limited, an innovative initiative by Rayn that aims to utilize data-driven insights to serve the farmers of Pakistan. With its fully digital end-to-end platform, integrated brick-and-mortar centers, and a marketplace, Kisaan aims to connect farmers with a wide range of products and services while fostering collaboration and growth in the agricultural space.
The inauguration of our flagship Kisaan center marks a significant milestone in our journey towards empowering farmers and transforming the way they access essential resources. The state-of-the-art Kisaan center embodies our commitment to excellence. It boasts a range of innovative facilities, including a cutting-edge soil and water testing laboratory, a warehousing facility, Kdukaan—a dedicated retail space for agricultural and veterinary products—and Freshly, a convenience store in partnership with Metro. Additionally, the center provides a dedicated space for Agri/Veterinary officers to offer assistance to our members.
On June 17, 2023, KMS held a momentous inauguration ceremony for its first Kisaan center. Distinguished guests, including local government officials, influential farmers, political figures, and our leadership team, graced the event. The ceremony provided a platform for sharing our vision and highlighting the project's potential to uplift the lives of farmers, who form the backbone of our nation.
On June 18, 2023, the Kisaan center opened its doors to the public, receiving an overwhelmingly positive response. Pre-registered members eagerly collected their membership cards and took advantage of the retail space to purchase high-quality agricultural inputs and grocery items from the Freshly convenience store. Non-members also flocked to the center in large numbers, registering as Kisaan members and placing orders for agricultural inputs. The positive feedback from our members has been heartening, underscoring their satisfaction with the center's services and the availability of premium agricultural inputs at company-suggested prices.
Within weeks of the launch of the Kisaan center, the response from farmers has been exceptional, with Kisaan being entrusted with serving over 35,111 acres of land and treating more than 23,645 dairy animals.
As we'll explain here, product and UX designers may take on overlapping responsibilities, but they deal with different missions As KMS continues its mission to revolutionize the agricultural sector, we extend an invitation to potential partners who share our vision. Join us on this journey to empower farmers and contribute to their growth. By collaborating with us, you will have the opportunity to showcase your products and services in our dedicated space (Kdukaan), network with influential stakeholders, gain efficient and seamless access to farmers at a lower cost, facilitate efficient distribution of products through improved supply chain management, reinforce brand integrity, and contribute to the sustainable development of the agriculture sector in our beloved country.
Together, let us solve for our farmers, foster collaboration, and drive sustainable growth in the agricultural sector.